Artist Mediha Ting grew up and has lived in many places around the world- Hong Kong, Taiwan, the US and the UK. The influences of these cultures are reflected haphazardly in her art. Sometimes these influences merge ambiguously and she often finds herself caught in dual-identity, when certain beliefs and action become dubious, and contradictions and paradoxes arise within.
"The Realm of Perception" series in this exhibition explores her interests in the perception of cultural identity, the relation of inner and outer world, and the state of consciousness and unconsciousness. Her works focus on different aspects of duality that are conveyed by a process of vigorously revealing of self-expression, fragmenting the surfaces and images, and then reconnecting them. She indulges in the act of overt confession in Western style, and at the same time, her Chinese upbringing reminds her the impulse to shy away from revealing emotions that are hidden underneath layers of imageries and texts.
The extreme intensified colors in these paintings are drawn from urban nightscapes and they are bold and luring. Yet much darker consciousness is embedded behind the intriguing patterns made from giant stencils of motifs of Chinese and Western culture. She creates visual and conceptual tension and depth in the multitudes of layers.
The other series "Tip of Consciousness" is a much more playful and light-hearted exploration. Her child-like renderings often consist of images of sentimental objects from her childhood, private notes and personal letters that represent her inner world. She puts them together against imageries of the larger world with a subtle sinister twist. She investigates the connecting point of inner and outer world in reminiscence of objects, imageries and language.
艺术家定光琴在不同地方长大和生活过-香港、台湾、美国和英国。这些不同的文化对她的影响会偶然地在作品中反映出来。有时候这些影响体现得很模糊以至她常常发现自己背负着身份的双重性,特别是每当自我产生矛盾、一些信念和行为变得可疑的时候。
本次展出中的"知觉的领域"系列作品探讨她所关注的文化身份认知、内心和外在世界的关系、以及意识和潜意识的境界。她的作品注视双重性的不同层面。这些层面的表达是通过强制地暴露出的自我表现、表面和形象的分裂、然后从新进行连接。她投入于西方式的公然忏悔行为,同时,传统文化下的长大方式提醒她对隐藏感受的冲动,感受可能通过图像和文字所堆砌的层次作隐藏。
这些绘画作品中强烈的色调有如繁华喧哗城市里的夜色,非常的耀眼和迷惑。但更阴暗的意识似乎埋藏在看上去惊艳并带着中国和西方味道的漏印图案之下。她在众多而复杂的层次中创造出视觉和思维的张力和深度。
另一个系列"意识的尖端"则用比较轻松和宽快的方式去作出探索。在看似孩童般天真的描绘中,定光琴把个人笔记、私人信件及儿时留恋物件的形象堆放一起,并将其对照着来自外在世界的图像,作为一种微妙而不幸的突变。她在对物件、形象和语言的追忆中寻找内心和外在世界的连接点。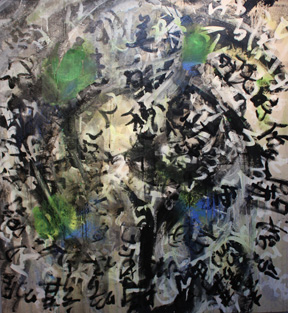 "对立的自我" Polarized Self
oil on canvas, 160x150cm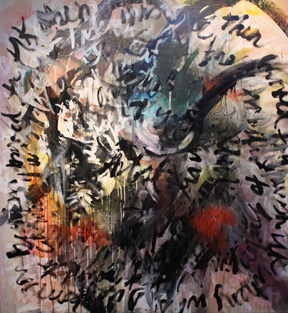 "对立的自我" Polarized Self
oil on canvas, 160x150cm