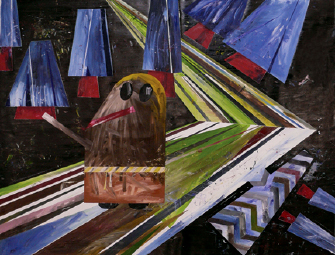 蓝森林,油画 Blue Forest, oil on canvas, 193x 160 cm
German artist Tobias Megerle's work refers to the age of machines and technology, to human relationships and to the discourse about the potentials in painting itself. His paintings are populated by comical and robotic phallic symbols that appear to be in a lost world of video games. Trapped within the sharp edged and mechanical environment, sexual cognition and masculinity has been removed from the cartoon-like phallus. In this cynicism, the imageries debate between man and machine, vulnerability and aggression, openness and self-censorship, phobia and acceptance.
The subjects in the work have their root in the artist's contemplation of the relationship between individuals and the various manifestations of social behaviors. In this post-modern world, we often wander and are lost in a space created and preconditioned by a set of collective social behaviors and self-indulgence. Says Megerle, "I am interested in simple questions. How does an individual position oneself to the group? What do individuals do in front of backdrop standardized by the society? What are the purposes of our action?"
These visually stunning paintings are also about transition, transformation and challenge. Phallic symbols have appeared in many ancient cultures, and certainly China is among one of them. In modern days, the open use of phallic symbols in certain cultures can be viewed taboo. Megerle's hip-hop influenced and non-subliminal imagery demystifies such controversy. He wants the discussion created by his work to be cross-cultural yet personal.
Though appearing as calculated compositions, there are traces of free-expressions in the handling of colors and shapes in the work. In such a duality, the artist skillfully creates dialogues between visual elements, and emphasizes the debate of personal and social issues. The rigor of shapes and the thoughtfulness of colors contrast with light-hearted representation of penises in the forms of game-toy characters. Megerle's work entertains yet provokes discussions.
德国艺术家Tobias Megerle的作品似乎关注工业和科技时代、人类关系、以及对绘画本质和潜在价值的阐述。作品中出现大量漫画式、机械人般的阳具符号,有如迷失在一个电子游戏的世界里。被困在布满锋利边角的机械式空间里,性知觉及阳刚之气在卡通般的阳具上已经被去除。以如此的讽刺手法,画面探讨的一些关系 -人与机器、脆弱性与攻击性、开明与自我审查、恐惧与接受。
作品的主题来源于艺术家对个人和社会活动模式之间关系的思量。在这个后现代时期,我们不断徘徊和迷失在被集体社会活动模式和自我沉迷所预设和产生的空间中。Megerle提出一些问题:"作为个人如何在群体中定位?在社会统一标准的背景下,个人是如何行为的?我们行为的目的是什么?"
这些充满视觉震撼的绘画也是关于过渡、转变、和挑战。阳具符号常在古代文明中出现,包括中国的文明。但今天,在某些国度公开使用阳具符号会被看作禁忌。Megerle嘻哈式、非隐晦的图像为这样的争议揭开神秘。他希望作品提出的探讨能跨文化,同时也属于个人。
虽然作品的构图看上去是精心考量而成,但颜色和形体的自由表现和发挥可在画面寻找到。通过这样的双重性,艺术家很巧妙地产生视觉元素间的对话,并强调个人和社会问题的争论。严谨的形象和周到的色彩衬托着用轻松手法呈现游戏人物和玩偶般的阳具。Megerle的作品在富有趣味性同时,还引发了争议。